Each gîte in our recently renovated barn is for two people and both are around 60m2 each over two floors. Downstairs is an open plan sitting room, dining area and kitchen with a wood burner. Stairs lead to the underfloor heated bedroom with its own en-suite bathroom. The bedrooms have vaulted ceilings with exposed oak beams. To enable you to have a fantastic night's sleep each bedroom has a Super King-size bed. For a twin room arrangement, the bed can split to create 2 single beds.( Please let us know if you would prefer this option) Although the building has been renovated to create modern accommodation, we have maintained the characteristics of the old barn with original elements being recycled and renovated to become features.
Outside there is a patio terrace with sun awning for you to enjoy breakfast, lunch or dinner and an evening drink.  The garden with a sun decking is also available if you would like to soak up the sun or sit in dappled sunshine under the oak tree. There is a barbecue available for guests to cook on and when the sun sets and the temperature drops we have a fire pit for you to sit around and enjoy the tranquility under the stars. 
---
---
---
Check-in is from 15h00. However, we are flexible to your requirements and will make every effort to be ready should you wish to arrive earlier. On your day of departure Check-out is by 11h00, so enabling us to clean and prepare the gîte for new guests arriving.
An arrival supper is available if arriving late and you would like something to eat before going to bed. Please see below for details.
We ask guests to text us +33 (0)780 333738) on their arrival day with their estimated arrival time. We live here so aim to be here to welcome you. Receiving your text enables us to plan our day and be here for your arrival. In winter perhaps even more important as we will light the wood burner prior to your arrival, so your gîte is nice and cozy when you arrive.
---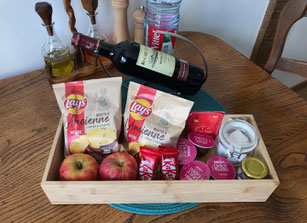 We have a welcome box for you to enjoy on your arrival.
A Bottle of Red Wine and Water.
Crisps, apples, chocolate and mints.
4 coffee capsules for the coffee machine, 2 tea bags and sugar cubes.
The Dolce Gusto coffee capsules are available in all supermarkets.
Or we can supply you more at 0.40€ each
If arriving late and you haven't been able to get any provisions ( milk/bread etc. )
Please ask us as chances are we will have in our own fridge. 
---
We offer breakfast should you wish to have it served to you. Our Breakfast menu card offers you a wide choice.
Continental Breakfast offers you a choice of fresh local bread, croissants, brioche and Pain au Chocolat, fruit juice, coffee or tea.
Bread and croissants etc. are collected that morning from our local bakers. 
You can also have a cooked breakfast with a choice of eggs ( fried, scrambled, poached or boiled ) with bacon, mushrooms, smoked salmon etc. The choice is yours. Also available are omelettes, yoghurts, cereal and charcuterie etc. for which to start your day. 
Any specific request please just ask.
Price from 8.00€ per person.
Breakfast can be served in your gîte or outside on the terrace. 
You will find the breakfast card menu in your gîte. (Menu Cards are in English and French)
Please circle/tick your choices and post the card in the Royal Mail Letter Box before you go to bed. 
Your breakfast basket will be brought to you at your chosen time the following morning and any cooked choices following soon after.
---
Depending on your arrival time you may wish to have our arrival supper. We offer this to guests who either do not wish to eat out after a long day travelling or haven't had time to do any shopping themselves. We ask that if you should wish to have our arrival supper that you
pre-order 48 hours in advance. On arrival you can then choose at what time you would like it served either in your gîte or on the terrace.
Please be aware that as we are in rural France - Restaurants are closed Sunday and Monday evenings. 
Choices - (we ask that each person makes the same choice)
Homemade Beef Lasagna with a mixed salad and fresh French bread - 15.00€ per person
Homemade Vegetarian Lasagna with a mixed salad and fresh French bread - 15.00€ per person
Homemade Tartiflette with a mixed salad and fresh French bread - 15.00€ per person
Homemade Soup with fresh French bread and an Assiette of charcuterie and local cheeses -15.00€ per person
Dessert - a Fruit Pastry from our local patisserie served with cream - 4.00€ per person
Cheese - a selection of French cheeses with fruit - 4.50€ per person
---
On a nice summers evening or a cold winters night you may wish to enjoy dinner here. Served on the terrace or in your gîte, we offer a menu for you to choose from. All is homemade unless stated. 
We ask that you each have the same dishes, as we are not a restaurant, but cook on the day per couple. 
3 Courses Price per Person - 26.00€ 
(We are not licensed to sell alcohol, please supply yourself) 
Starters - 
French Onion Soup with a grilled Comté cheese crouton ( Winter )
Vichyssoise or Gazpacho chilled soup with croutons ( Summer ) 
Prawn cocktail on a bed of lettuce in a spicy Marie Rose Sauce
Salad of Grilled Goats Cheese coated in Provençal herbs with bacon lardons 
Assiette of French Charcuterie and fresh bread
Terrine of Paté served with homemade pickles and toast
Main Courses -
Moule Frites Marinières - Fresh Cancale Mussels served in a white wine, garlic and cream sauce served with French fries.
Boeuf Bourguignon - Beef stew served in a rich beef and red wine sauce with mashed potatoes and roasted vegetables.
Chicken Makhani - Butter Chicken Curry (either spicy or mild) served with Basmati Rice ( pompadoms if we can get them ) 
Linguini Chilli Prawns- Linguini Pasta coated in a prawn, chilli, garlic and tomato sauce with a parmesan crisp.
Duck breast with an Asian orange or cherry sauce served with gratin potatoes and roasted vegetables.
Chicken breast stuffed with cream cheese and rolled in Jambon Cru with gratin potatoes and Garlic french beans.
Tartiflette - An Alpine dish of smoked bacon lardons, roasted potatoes in a creamy sauce with Reblochon cheese melted over the top and served with a mixed salad.
Homemade BBQ Beef Burger 300gm served with Comté cheese on a bun with mayo and salad - French fries. ( Summer only )
Mushroom Risotto - Parmesan cheese and mushrooms in Arborio rice
Vegetarian Lasagna served with a fresh salad
Desserts - 
Brioche and Butter Pudding baked in custard and Calvados
Fresh Fruit salad ( Seasonal fruits ) with fresh cream
Homemade Chocolate Mousse
A French Fruit Tart from our local Patisserie with fresh cream
Supplement -
A Cheese Board of French Cheeses and fruit -  4.50 € per person extra
French bread and butter included
Menu choice is subject to availability of produce on the day
---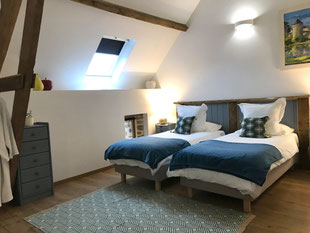 When we first set up the gîtes we were determined to source very comfortable beds. Fortunately we discovered a bed manufacturer in Fougères who hand make beds for hotels around the world. As you will see in our reviews many guests comment on how comfortable the beds are and what an excellent nights sleep they have had. 
Our beds are Super Kingsize but with the option to split to two singles. When joined you do not feel the velcro joint due to the topper placed over the whole mattress. Some guests may prefer single beds, should you wish this, please let us know in advance of your arrival.
All our linen is 100% cotton. 
---
PLEASE READ THE REVIEWS WE HAVE RECEIVED FROM GUESTS WHO STAYED HERE FROM 2021.
The Barn was fully renovated in 2020/2021 and has been tastefully furnished and decorated.
Modern but keeping the characteristics of a 150 year old barn.
Each apartment/gîte is approx. 60m2 in size.
Fitted kitchen with gas hob, electric oven, microwave, coffee machine, dish washer, toaster and fridge freezer.
Kitchen has all the crockery, glasses and cooking utensils you might need to cook meals. Even a shucking knife to open oysters.
All towels, bed linen and bath robes are included. Depending on the season - Duvets are 4.0 tog in summer and 10.5 tog in winter. 
Choice of Super Kingsize bed or two singles.
Bedrooms have blackout blinds, hair dryer, USB charge points each side of the bed and in the kitchen. 
A cooling fan for when the summer temperature is high which with windows open will draw cooler air through the gîte. 
Wood burner ( in winter the wood burner is lit in advance of your arrival ) 2 nights supply of logs is included. Extra logs are available 
8.00€ per extra pannier.
An ideal base either in summer or winter - terrace and garden in summer, a cosy wood burner in winter.
Very rural location with views over the fields.
Very quiet with local wildlife.
Nearest ferry port is Ouistreham/Caen - 1 hour 50 min. drive (for long weekend breaks)
Location is central for the many medieval towns, markets and attractions. Please view the 'Places to Visit' page for more details.
Breakfast basket with fresh local bread and croissants plus a cooked choice (available daily by completing the menu card)
A light evening meal arrival supper is available for guests (pre-booked 48 hrs) from 15.00€ per person.
A 3 course Dinner is available (pre-booked) 26.00€ per person. 
Barbecue in the garden for guests to use.
Fire pit to sit round at night
Guests must request staying here with their pets. Any guests with pets are responsible for them and they must be on a lead, especially near any farm livestock.
Couples with young children - we have a cot with mattress and sheets for a child up to 4 years old. Please let us know in advance if you require the cot. There is no charge for the use of the cot.
We are able to recommend and advise guests on places to visit, eat, walk and ride etc.
Free Parking 
Secure overnight storage of bicycles.
Bicycle rental ( advance notice required )
Covered and hard standing for motorcycles overnight.
Unlike some gîtes there are no hidden extras. We do not charge guests for electricity consumed and there is no final cleaning bill.