---
---
Basing yourself at La Martinière gives you the opportunity to visit many places within the area.
We are able to assist you with any questions you might have and can recommend these places to you. 
Click on a location photo to link you to the Tourist Office website
---

The local tourist Bocage-Mayennais is open throughout the year with offices in Gorron,
Colombiers-Du-Plessis, Ambrière-les-Vallées and Pontmain.
Click on logo to take you to the Mayenne Tourism website
---
Largest town in the area with the River Mayenne flowing through it. Good  shopping and an excellent food market on Saturday morning in the old town centre.
The best place for large out of town shopping stores. 
Coastal town on the Bay of Mont St. Michel. Famous for its oysters and mussels and its numerous seafood restaurants. North of the town along the Atlantic coast are beautiful beaches in between rocky coves.
A Gallo-Roman city town established two thousand years ago. Visit the Roman ruins and the archaeological museum housing the artefacts discovered on the site. 
If you are wishing to stock up with local produce the excellent food market is held on a Wednesday morning.
An old fishing port on the West Normandy coast. Famous for its 5 day annual carnival in mid-February and the childhood home of couturier, Christian Dior. The house is now a musuem open to the public.
Recognised as one of Frances most beautiful villages located in the Orne. Narrow streets to discover artists studios, the church and the tiny chapel du Petit Céneri standing alone in a bend in the river.
Enjoy lunch by the River Varenne after a walk around the lake and the small attractive town centre.
A medieval city known as the gateway to Brittany and labelled a 'City of Art and History'. The château is a medieval masterpiece and is a pleasant city to stroll around the ancient streets with many shops and restaurants.
There are many brocantes in the area. Some better than others and not over priced. Overtime we have visited most of them, so happy to advice you on those worth visiting. 
In 1871 it is claimed some children saw an apparition of the Virgin Mary. A year later the Bishop of Laval recognised this. Hence the decision to construct a cathedral in this tiny village. 
---
Beautiful old town split into two parts, the upper old town on the hill with the castle and below is the Port de Dinan alongside the River Rance. Great place to wander the narrow streets or take a boat trip up river through locks through a wooded valley. 
Coastal town over looking the bay towards St.Malo. There are numerous sandy beaches along this part of the Brittany coast, of which two are in the town. The town is famous for its Casino and the annual British Film Festival.
A beautiful spot for long or short walks in the forest or around the lake. For the adventurous rock climbing is available here on the crags. By the car park is a great restaurant offering lunch and dinner or snacks and a drink after a good walk.
---
This region of France is famous for its Cheese, Cider and Calvados and you can visit the orchards, learn about the production and enjoy tasting the local produce. For more details visit the Mayenne Tourism site here.
Essential guide to Normandy Cheeses
The Route of the Pear Orchards
Calvados producers in the area 
A bit of information - how to spot a Normandy species of cow - They are white and brown and always have a brown patch around their eyes. 
---
Walking - If you enjoy walking in the countryside there are many recognised and well sign-posted tracks along country lanes, through woods, along rivers and around lakes. Helen is a keen hiker and has many books which map out various walks and what to see on them. She is very happy to discuss your options and recommend routes for you ranging from a few kilometres to long distance walks.
Cycling - France is renowned for its cycling and some years the 'Tour de France' visits the region. Many of the roads of Mayenne and Normandy are very quiet and with the many back roads it is a cycling paradise. With the aid of a local map your route will take you through some beautiful countryside and villages where you can stop for a drink or a meal. If you are looking for a real adventure there is the Véloscénie - Paris to Mont St.Michel route. You probably don't wish to do the whole 450km, but from Domfront you can join the 80km traffic free route to Mont St.Michel. 
Kayaking - Throughout the region are many rivers, some are only a stream but some are major rivers such as the River Mayenne and the lesser River Varenne. Kayaks and canoes can be hired by the hour, half day and full day for you to enjoy paddling or drifting on the flow through the beautiful Mayenne countryside. The hire places will supply you with a map to point out places of interest and villages you can remove your kayak to enable you to go exploring. 
Horse Riding - If you would like to go riding, we can recommend an equestrian centre near Mayenne where you can enjoy countryside horse riding tours or if you are happy to drive a bit further it is possible for riding tours along the Bay of Mont St.Michel.
---
Gorron is our local market town, 7 km from La Martinière.
You will find a variety of shops which should cover your needs.
Super U supermarket ( closed Sunday ) and 7 day/24h Fuel Station 
Mini Supermarket in the main street ( closed Monday )
Small food market Wednesday mornings
Banks with ATM - Credit Mutuel and Credit Agricole
2x Boulangerie
Butchers
Pharmacy
Bar Tabac
Newsagent and Tabac
Estate Agents
DIY Store - La Maison.Fr 
Self service Laundrette - between Super U and the fuel station
Bars and Restaurants
Small Gift, Art and Clothing Shops
Cinema ( English/American films Monday in English ) 
Indoor Swimming Pool
Doctors Surgery
                                                                                       Dentist
                                                                                       Optician
                                                                                       Gendarmerie/Pompier and Paramedics
---
One of the joys of visiting France are the food markets. We have city, town and village markets on most days around us.  
Some are small markets with just a few stalls selling local produce others like Rennes are enormous. 
Markets are open from 8.00am to 2.00pm.
We have been to many of the markets listed below, but not all of them.
Markets marked with a * we can recommend and ** Highly recommend.
MONDAY -       Mayenne
TUESDAY -        Ernée   Landivy   Laval*   Villedieu-les-Poêles*   Sourdeval    Bagnole-de-L'Orne
WEDNESDAY - Gorron   St. Hilaire–Du-Harcouet**   Lassay le Chateau   Flers*
THURSDAY -    Le Teilleul   Chateau Gontier
FRIDAY -           Domfront*   Fougerolles-du-Plessis   Vire
SATURDAY -     Fougères**   Laval**   Rennes**   Ambrières-les-Vallées    Bagnole-de-L'Orne   Mortain   Mayenne
Rennes - Saturday market (1 hr 15mins. drive) is France's 2nd largest gastronomic market and we highly recommend a visit. 
2 indoor markets selling meats, cheese, charcuterie, herbs, bread, pastries etc. and outdoors is a large area with vegetable stalls, numerous fish stalls and a flower market. A great day out visiting the market, enjoying lunch in a café and discover the old city.
---
If like us, you enjoy quality food at reasonable prices or wanting that restaurant which is a little bit special, we can recommend a number of restaurants, bistros and cafés in the area to suit all tastes and budgets. In our gîtes manuals, we list a selection of restaurants with a brief outline of what type of food they serve, plus price range and a telephone number. If you would like us to make a reservation for you, please ask.
For food lovers looking for classic French cuisine, we have discovered Michelin* and Fine Dining restaurants.  Travel towards the Normandy and Brittany coast to find the freshest sea food. Oysters, mussels etc. which were only collected that morning. For an excellent lunch at bargain prices, go to where the locals enjoy their 'Plat de Jour'. Our tip for a good 'Plat de Jour' restaurant is - if there are the plumbers and electrician vans outside during lunch then it is probably good. But you need to be seated soon after 12 noon or all the tables will be taken. Usually costing 14€ per person, offering 3 or 4 course lunch including wine or cider. Or you perhaps you just want a pizza or galettes/crêpes and you will find these restaurants in most town centres.                   
---
The list below details restaurants we have discovered and can recommend. A brief description of each restaurant, where located and approx. time need to drive there. Often in France opening days and times can be sporadic, so would recommend you call ahead to reserve a table. We are happy to make the call for you. Suggested Price Budget is marked to give you an idea of cost of lunch/dinner with drinks. 
€ Low Prices €€€€ High Prices. 
CHEZ VERO - LESBOIS: Small french restaurant in Lesbois village close to La Martiniere. Daily Plat du Jour and Pizzas. Generally open lunchtime and some evenings. 5 mins. drive  Prices - €   0243 005476
LE PAPILLON - GORRON: English owned bar/restaurant serving traditional French Plat du Jour and à la carte. Lunch and dinner. Closed on Mondays. 7 mins. drive  Prices - €€   0243 086367
CREPERIE DE MENHIR - GORRON: Small creperie in the town centre near the Mairie. Serving Gallettes, crepes and a small à la carte menu. Check opening days. 7 mins. drive  Prices - €€   0243 039054
CUISINE DE BUBBA - GORRON: Excellent pizzas and kebabs. Opposite the Mairie in the town centre. Only open Thursday. Friday and Saturday. 7 mins. drive  Prices - €   0986 116818
HOTEL DE FRANCE GRILLE - DOMFRONT: Steaks and other french specialities cooked on an open wood fire. Closed on Mondays. Very popular at weekends. 15 mins.  Prices - €/€€   0233 385144
L'ECHAUGUETTE - DOMFRONT: Pizzas, a variety of salads, fish and meat dishes. Open all week except Mondays. Nice small terrace in summer to eat out the back. 15 mins. drive  Prices - €€   0233 377171
AU BAR NORMAND - DOMFRONT: Famous little bar with small terrace opposite the church. Good selection of beers and wines. Serves excellent Thai snacks. 15 mins. drive Prices - €/€€   0233 385129
LE BRICCIUS - BRECÉ: Typical French Lunch time "Plats du Jour". Village on route to Mayenne, south of Gorron. Choice of 5 starters, 5 main courses, dessert with wine or cider. 10mins drive Prices - €
LE RELAIS DE LA VARENNE - AMBRIERES-LES-VALLEES: Newly renovated restaurant with excellent position beside the river. Pizzas, Steaks, Burgers, Pasta, a broad menu choice and Plat du Jour.
15 mins. drive Prices - €€   0243 049054
LE LION D'OR - FOUGEROLLES-DU-PLESIS: Traditional French Plat du Jour lunch time menu. Salad buffet, choice of mains and dessert includes wine/cider. Only opens lunch time. 12 mins. drive
Prices - €   0243 055376
LA VERTE CAMPAGNE - ST.HILAIRE-DU-HARCOUET: Excellent Plat du Jour with cider and wine included. A good place for lunch after visiting the market on a Wednesday. 30 mins. drive                          Prices - €   0233 6988183
COM A LA MAISON: LA FERRIERE-AUX-ETANGS: Family run restaurant. Traditional Plat du Jour menu. Great terrace area with tables under the trees beside the lake. Lunch/evenings 30 mins. drive      Prices - € 0233 144872
LE BRISTO - FOUGERES: Small bistro restaurant close to the theatre. A broad French menu with pizzas and burgers or escargots, foie gras, Rognons de Veau etc. 30 mins. drive                                     
Prices - €€   0299 995904
LE MOULIN DE JEAN - CUVES: Perhaps our favourite restaurant. An old Water Mill in a great setting and depending on the season it is possible to eat indoors or out on the terrace. Michelin quality à la carte menu. Prices - €€€/€€€€  40 minutes drive   0233 483929
LA MERE CHAMPLAIN - CANCALE: If visiting Mont St. Michel and the Brittany coast this is one of our favourite seafood restaurants over looking the bay. Great choice of Fresh oysters, mussels, crabs and lobster plus catch of the day. To get a table in the open terrace windows you will need to make a reservation. Very busy at weekends. Prices - €€€/€€€€ 1hr15mins drive   0299 896004
LE QUERRIEN - CANCALE: Another of our favourite restaurants which always has a great atmosphere. Great seafood plus a variety of meat dishes and some great desserts. Again very busy at weekends. Prices - €€€/€€€€ 1hr15mins drive   0299 896456
LA FORGE - FONTAINE-DANIEL: À la Carte restaurant with nice terrace over looking the village green and a small lake. Plat du Jour choice at lunchtime. Closed Mondays and Tuesdays.
Prices - €€/€€€ 30 minutes drive   0243 003485
AUBERGE DE LA MINE - LA FERRIERE-AUX-ETANGS: Michelin * Restaurant about 30 minutes from La Martiniere. Unfortunately no outdoor terrace. Choice of à la Carte with a choice of courses or the 8 course Taster menu. Superb quality from Chef Nobis as you would expect from a Michelin * restaurant.  Prices - 30 minutes drive €€€/€€€€   0233 669110
LA PAUSE DES GENETS - GENETS: Located on the bay of Mont St. Michel. Quirky deco inside with a beautiful Asian themed garden to enjoy lunch or dinner. Excellent modern French cuisine with an Asian touch. Prices - €€€  One hour drive   0233 897238
AUBERGE DU GRAND GOUSIER - DOMFRONT: Centre of town near the Church and Palace de Justice. Plat du Jour or à la carte choice. Outdoor terrace. Generally open all week except Mondays.
Prices - €€/€€€ 15 minutes drive   0233 383725
AUBERGE DE LA FOSSE ARTHOUR - FOSSE ARTHOUR: Lovely restaurant in a great setting. Located in a gorge surrounded by trees with a rushing stream alongside. Outdoor terrace to enjoy lunch or dinner alongside the stream. Also offers drinks/snacks if enjoying a walk through the woods and around the lake. Lunch/Dinner Prices - €€€ 20 minute drive   0971 722695
CAFE DE SAINT-MALO - ST.MALO: There are so many restaurants in the old walled city, but this one we have returned to a number of times. Wide selection of seafood and meat dishes à la carte or from their Menu du Jour. Prices - €€€ 1hr20mins drive   0299 564675
LE PALATIUM - LAVAL: Restaurant and Bar in the Market Square. Excellent food and place to enjoy a drink - Tuesday to Sunday lunchtime. Very popular on Saturday when the excellent food market is on. Snacks to full a course lunch and dinner available. Prices - €€/€€€  40 minutes drive  0243 532222
LE CAFÉ DE PARIS - FOUGÈRES: In the town centre and very popular with the locals especially in the evening and on Market day (Saturday) Great place to sit outside and people watch. Small menu, but the homemade Quiche is excellent. Prices - €€  30 minutes drive  0299 943938
LE CENTRAL - DOMFRONT: Cafe/Tabac on the road through town towards Bagnoles. Chinese family run, who are very friendly and it has a good atmosphere with a young crowd inside and on the pavement terrace. Snacks available ( Chinese noodles/nems etc. ) Open all week accept Tuesday. Prices - €/€€  15 minutes drive  0233 386559
---
The Normandy region was made infamous on the 6th June 1944 with the D-Day landings, the following Battle for Normandy which ended when the Allies crossed the River Seine at the end of August 1944.
The whole area around, but mainly north of La Martinière was the battle ground of the Allied Offensive and German defence. 
The D-Day beaches of Utah, Omaha, Gold, Juno and Sword are about 2 hours north from here. Throughout the region there are numerous museums to visit covering different facets of the sea and airborne landings, the cemeteries for both Allies and Germans and numerous routes to follow to discover this important period in history. From La Martinière it is a great day out and I can advise you on major locations to visit to fill your day.
I am very interested in military history and will discuss and assist you to discover places to visit.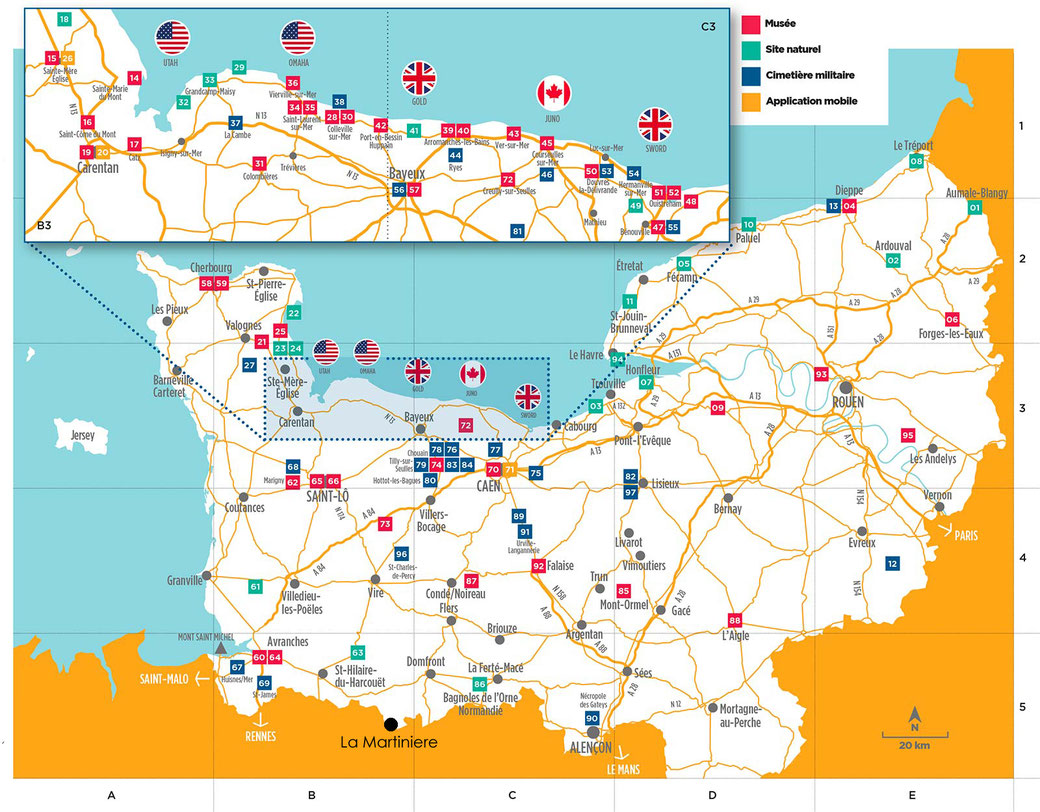 The map below shows the D-Day landing beaches, the Bridge Head established then the Break Out to push the Germans back over the River Seine. D-Day was on the 6th June 1944 and the Battle for Normandy ended 30th August 1944. With eventually the war in Europe ending 8th May 1945. 
The Battle for Normandy casualties were very high from D-Day and over the 3 month battle period.
Germany - 30,000 killed - 80,000 wounded and 210,000 missing
USA - 29,000 killed - 106,000 wounded and missing
UK - 11,000 killed - 54,000 wounded and missing
Canada - 5000 killed - 13,000 wounded and missing
France - 12,000 civilians killed and missing